Bitcoin price a big crash on 12th March 2020 during the COVID-19 period. This is a summary from CryptoCompare for the current status of exchanges in BTC and derivatives markets.
Top tier volumes increased while lower-tier volume decreased from February to March. However, lower-tier exchanges dominate volumes.
In March, Top Tier volumes increased 8% to $288Bn, while Lower Tier volumes decreased 7.9% to $1.02 Tn. However, we can see, Lower Tier volumes dominate since 2019 Q4.
Daily Spot Volume hit historic top $75.9Bn on March 13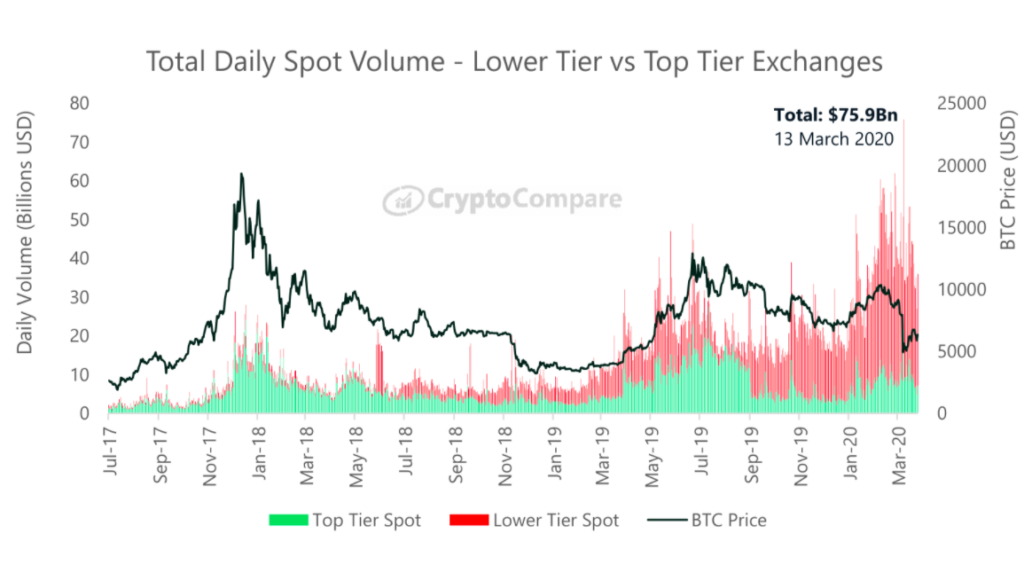 71.5% of the volume comes from Lower Tier exchanges and 28.5%(21.6Bn) from Top Tier exchanges.
For Top Tier exchanges, it's not historical top value since volumes were 27.5Bn and 24.2Bn on July 16 2019 and December 22 1017.
Despite daily spot volume hit the top, the monthly volume still lower than monthly volumes in December 2017 and January 2018.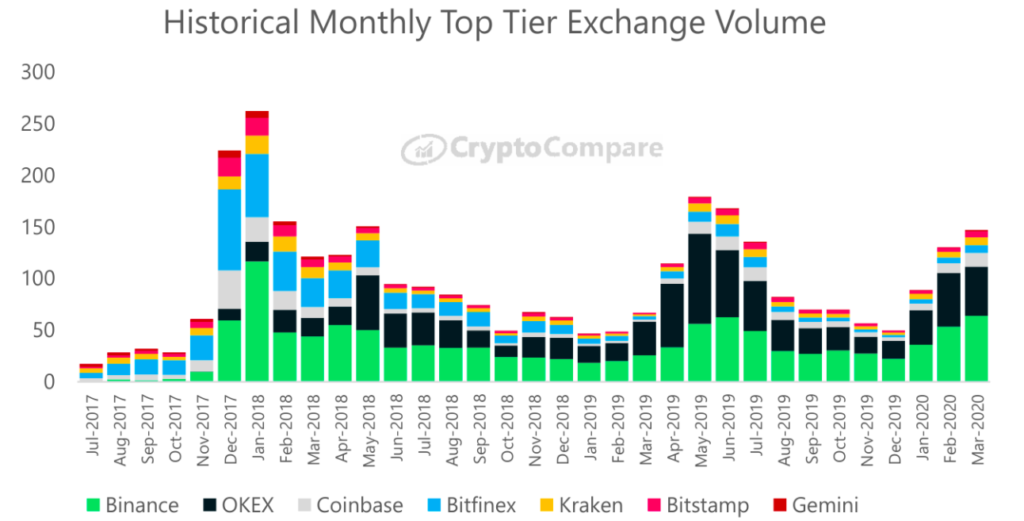 Since December 2019, Top Tier exchanges volumes increased. However, volume levels for those exchanges haven't reach level in Dec-2017 bull run.
Volumes mainly come from Binance and OKEX . However Bitfinex dominated the volume during the March 12 Bitcoin crash.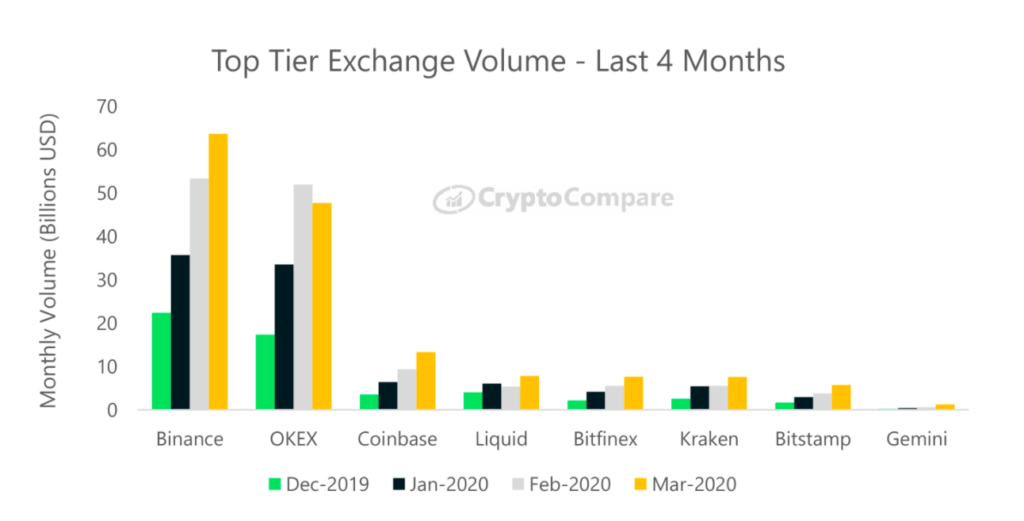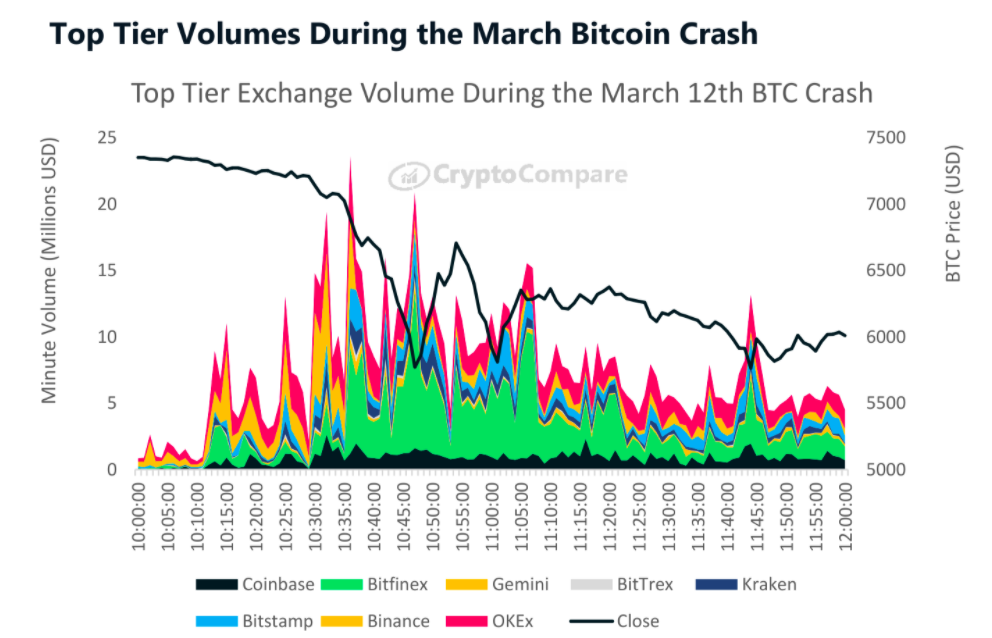 Binance was the largest exchange by volume in March, trading &63.6Bn. However, during the March 12 Bitcoin crash period, Bitfinex dominate.
Sing-up free account on the largest exchange – Binance
More bitcoin traded into USDT than USD. The monthly Volume hit the top in March.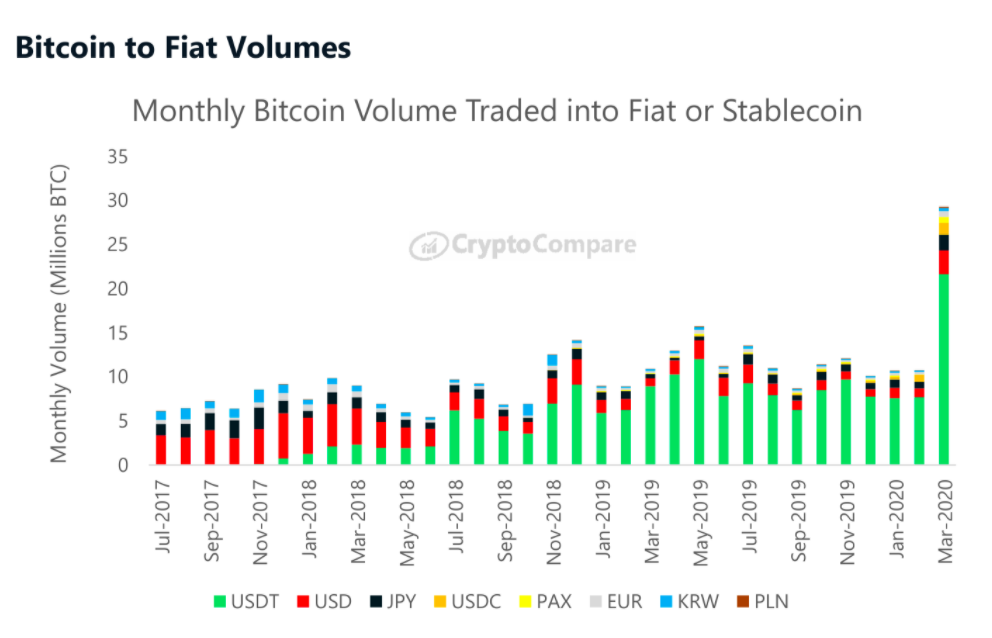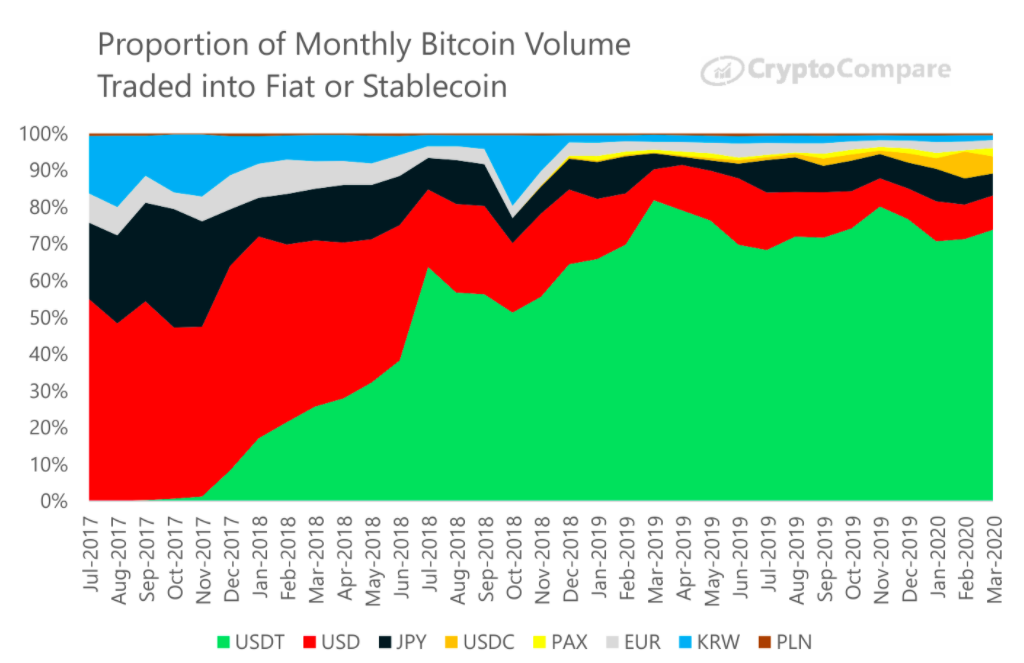 Volume BTC trading into USDT increase 280% from February to March. (7.7 Mn BTC to 21.6 Mn BTC)
We can see, USDT dominate the volume, approximately 70% since 2019.
Derivate monthly volume increased around 30% volume in the exchange market.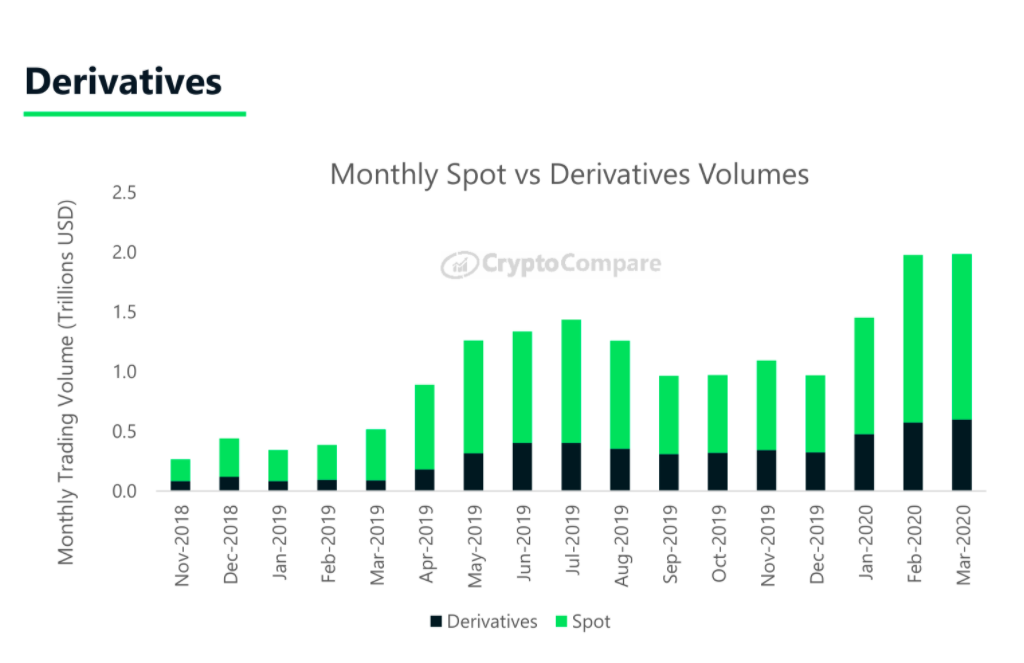 Derivatives volume growth in 2020 Q1, the monthly volume peaked to top history to $600 Bn.
OKEx, Huobi denominates the volume.
Despite total derivate volumes increased, institutional derivatives volumes plummeted.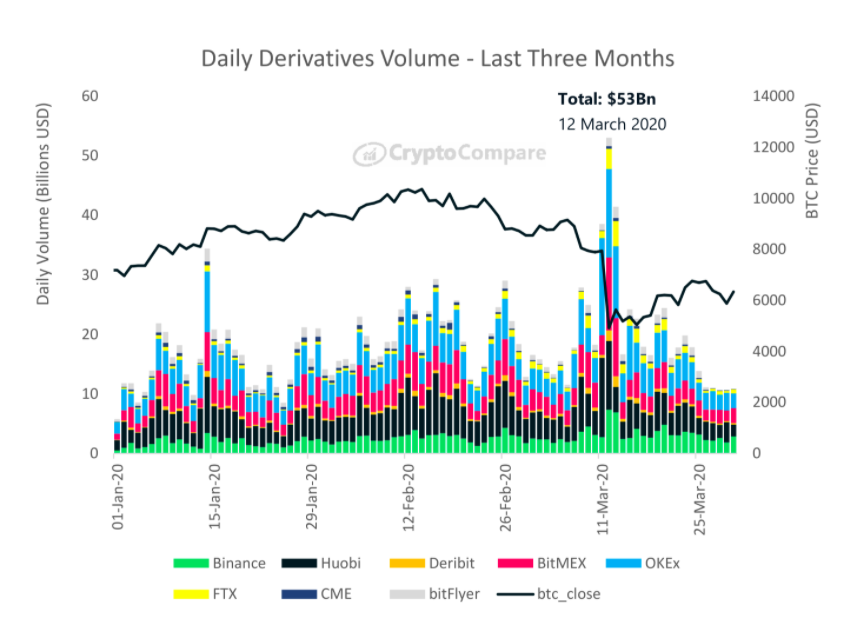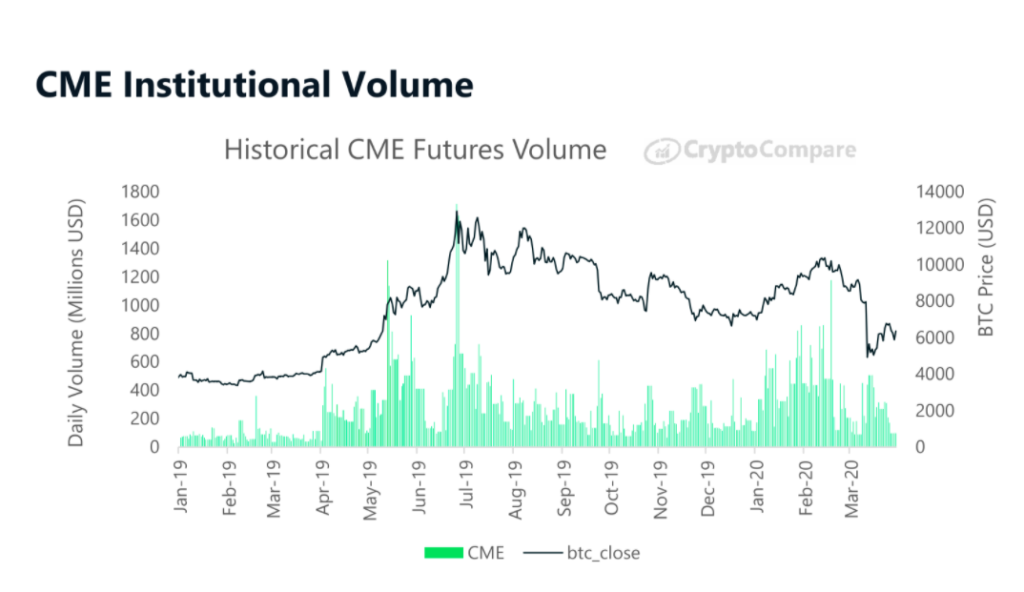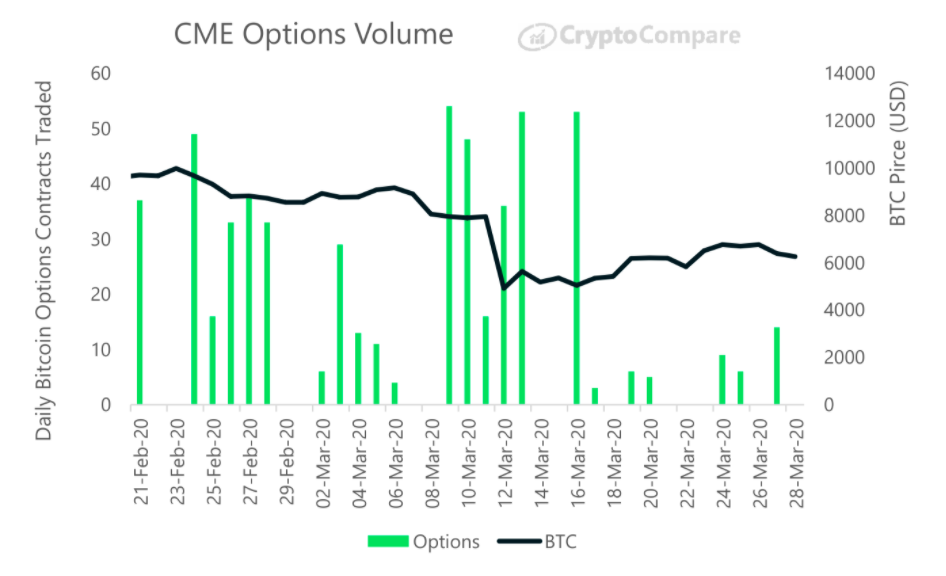 Institutional derivatives volumes decreased & followed the Bitcoin crash pattern.
For CME (Chicago Mercantile Exchange, the world's largest financial derivatives exchange.), futures volumes have plummeted 44% since February.
Read More
Sing-up free account on the largest exchange – Binance
Summary from "The Blockchain Report 2020" By CB Insight.
---
Ads